Staff Highlights
---

Ms. Golding has held multiple careers with a Bachelor's in Recognition of Handicap. She has been a swimming pool manager, a coach for school volleyball, and a basketball coach! Her most recent career is teaching for 18 years in Special Education. She found herself in this career as a substitute for Special Education Teacher with an English class where she was asked, in one class period, to get a test out. When the bell rang, she then told the students, "It's time to bring your test up, put it on the desk please." Everyone, except for one young man, followed her directions. This one young man stood up, walked quietly towards the door, crumbled up his test, and then threw the test into the trash. Ms Golding did not let that be the ending because you see, the best advice she could give anyone is to be kind and understanding. Instead, she called the students back in to recall that the test had to go back on the desk. When the young man looked at her and asked, "Why? No one cares anyway." She responded, "You know what? I care." She took the crumbled test out of the trash can and smoothed it out. For her, seeing that "ah-hah moment" or that click moment for when every student moves forward within their goals is a great motivator! For her, the best thing about WHS is that everyone is looking out for everyone else and she wants all of us "To be the best...we can be". ~ Leyonah Endischee
Irene Livingston is going into her 25th year as a Distance Education Facilitator at WHS. Previously, she was a preschool teacher at Montezuma Creek Elementary School. "I enjoy working with the teachers and staff here and working with scholars who are willing to learn." She wishes all scholars to stay caught up in all of their classes. Her advice for scholars is "take as many college classes as you can in high school so you can graduate with your Associate's Degree before graduation." Her greatest challenge this year was getting to know the scholars and adjusting back to in person learning. The goals she set for herself, this year, is to be more prepared for classes and staying ahead of her daily schedules. ~ Heidi Thomas
Nicole Black is a Scholar Advocate who received her Bachelor's of Science Degree from the University of Arizona and a Master's Degree in Social Work from Utah State University. Previously, she worked at a program called Project Redirection. The program's goal was to help pregnant students graduate from high school and learn to be parents. She was inspired to work in this career because she wanted a job that helped people. She especially enjoys working with teenagers and children. She has been able to help lots of scholars get into college and get scholarships to pursue their success; she has also helped people who have had difficult experiences to heal and move forward with their lives. ~ Amyas Hicks

---
School Community Council Meeting
Wednesday, December 1 at 4:45 pm via google meets: meet.google.com/mod-ncga-jzd
Join by phone: ‪(US) +1 304-441-0799 PIN: ‪668 060 696#
Upcoming Winter Concerts
· 2 guests/scholar musician
Monday, December 13: Jr High at 6 pm
Wednesday, December 15: High School at 6 pm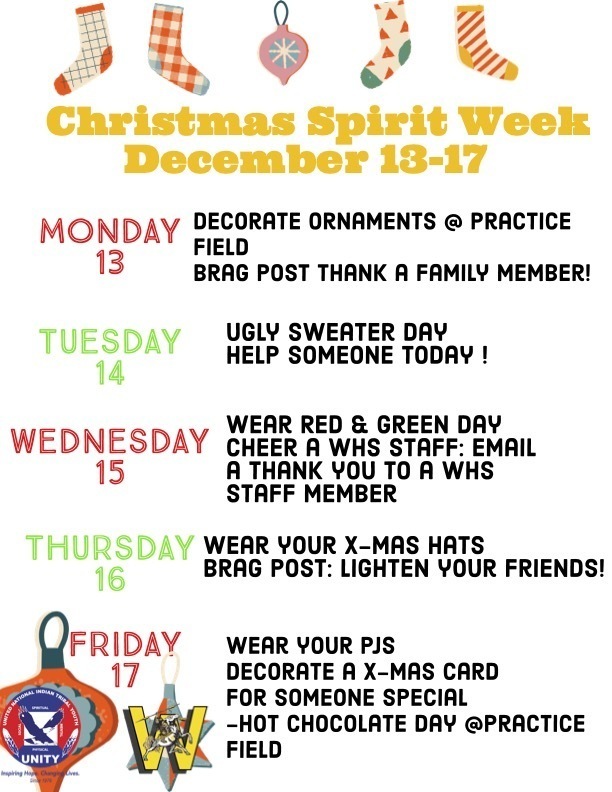 ---
Senior Highlights
---

Mckeeda Sam is about ready to graduate, but dreads leaving high school. The hardest part about leaving high school, for her, is leaving a part of her childhood and childhood friends. Another hard part is being a scholar athlete. She says, "Sports are a meaningful part of my life as a young athlete." Being a scholar athlete will allow her to better prepare herself for her future and enjoy the current moments. Mckeeda's career choices were all over the place from previous years. She planned on being a teacher, veterinarian, welder, so on, and so forth. After the loss of her grandmother, she finally decided to become a registered nurse. Mckeeda says, "Becoming a Registered Nurse is a career I chose that makes a difference. I desire to care about people and the ones I love." Mckeeda's options for colleges are open, but she plans on continuing with her education and striving for her goals. Ten years from now, Mckeeda sees herself graduated from college with a degree in nursing, accomplishing her life goals, and coming back to where she grew up to better the community and to inspire others.

Leah Prettyboy's career choice is Wildland Firefighting. She does not find joy sitting in an office, creating, or building. She chose this career path because she loves the mountains and wildlife. She plans on going to college in Montana, California, or Arizona. She does not yet know what her future holds, but she will take it one step at a time. The hardest part about leaving high school for her is not seeing friends as often as she used to and knowing she has her own responsibilities. She is ready to be on her own and she will manage her own way.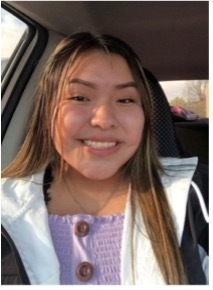 Raegan Jones: Ever since she was little, Raegan dreamt about becoming a Registered Nurse because she grew up around family members in the medical field. In ten years, she sees herself as a college graduate, working nurse, traveling, and having a wonderful family. Raegan's hardest part about leaving high school is leaving her childhood and her friends behind and leaving family while headed to college. She said she is not yet ready to do things on her own and will find ways to get through on her own.

Miranda Morgan's career choice is to be a Registered Nurse because she chose the profession to help others have better lives. She plans on going to college at San Juan College. The hardest part about leaving high school for her is leaving all her "HOMIES" … she says, "like most of Class of 2022, I am not yet ready to go on my own."
---
Sports Highlights
---
Dylan Lansing is the current Wrestling Coach and says coaching in this pandemic is a big challenge, but he will do anything to ensure safety. Dylan says he likes to know that he impacts scholar athletes' lives and helps them in any way to better themselves. Dylan says Wrestling is about being strong, not only physically, but mentally as well. Dylan says he has high expectations for the team, even though it's small, because he knows that each scholar athlete has talent. "Who doesn't want to win, right? But we sometimes fail or lose and it is also important to accept those losses and be strong in that way. I think by being strong in those times, we can prevail and carry through today's world. I hope we can try to break the mold of being the same wrestler yesterday. To be better than now, is our goal." ~ Amos Nocki Jr
Joni Dickson was born and raised in Blanding, where she played various sports throughout her adolescent years. She graduated from SJHS in 2007. Then, she graduated with her Associate's Degree from CEU-Blanding. Most recently, she received her Bachelor's Degree from USU-Blanding. Dickson has been married for 10 years and has a 6-year-old son; her family means everything to her. "Basketball has always been a big part of my life. I have accomplished many academic and athletic successes because of what the game and structure taught me. It is something I have always been passionate about." Dickson explains the ultimate goal for this year's basketball program is to make it to state. We want to build each player's talents and highlight their strengths that will ultimately contribute to the team's success. Joni believes that academics is a priority. She states, "You are always learning, regardless of the subject. Now, if you want to play at a higher level, you have to perform in school at a higher level. Academics and Athletics go hand-in-hand and you cannot succeed in higher level performance without the other." As the season begins, the girls' basketball team looks forward to several tournaments in December. A new coaching style means the team will need to build a good solid foundation together. Mrs Dickson is incorporating strength training into practices in order to be an overall tough team. "As the season goes on, the chemistry will fall into place. We believe in each player to grow and become great." Good luck to the Lady Raiders Basketball team and the coaches with the upcoming season!!!
---
Upcoming Games: Date: Location: Time:
December 2-4 Shiprock Chieftain Tourney GBB & BBB - V
December 7 Navajo Pine JV BBB @ 4 pm, GBB @ 5:30 pm, BBB @ 7 pm
December 9-10 Shash Holiday Classic GBB - V
December 10-11 1A State Preview BBB - V
December 16-18 Ft Wingate BBB - V
December 28-30 Striking Eagle @ Albuquerque GBB & BBB - V
January 7, 2022 Home vs Green River (2 guests/scholar athlete)
JV GBB @2:30pm, JV BBB @ 4 pm, GBB @ 5:30 pm, BBB @ 7 pm
* Most up-to-date Events are found here
---
2nd Quarter Ends on Tuesday, December 21, at 3:15 pm; No School December 22-January 2.
3rd Quarter Starts on Monday, January 3, at 8:25 am.