Meet Some of Our Staff, Interviewed by Our Seniors!
---
Kimberly Dee is one of the Science teachers. Her previous job was working with water quality in Durango, Colorado, where she made $25/hour. Her favorite thing about teaching at WHS is to teach us and she loves to teach science. Her favorite teacher here is her sister because she said "that's my sister." The way they are teaching this year is "good for us scholars," she said. She likes the way it is going because it lets us take everything slow. She said things are "going good, but still needs some improvement because it's our first time teaching in a pandemic." Asked her what her hobbies are and learned that she "loves to hike and collect dinosaur stuff with my little man." I asked her for some advice for the kids for this school year, and she said, "keep your mask on." By: Logan Murphy
Rick Grant is the Welding and Auto Teacher. Rick's previous job was working on construction and welding. He also had the opportunity to coach the Junior High Basketball Team at WHS and was once the custodian at WHS. He said, "when Kim Schaefer gave me the opportunity to teach welding, I took the job." Mr. Grant is Omaha and his advice to all scholars in welding is "keep your mask on, follow all safety protocols, and make sure you practice physical distancing." Rick says physical distancing is the most important safety procedure in or out of school because it keeps you and other people safe. By: Tyren Chief
Boyd Silversmith is the P.E. teacher. Mr. Silversmith says he teaches so that, "my scholars will improve on their Fitness test and grow on speed, agility, and strength." He is willing to push his scholars to their limits by motivating them and teaching them. His teaching method is first by explaining the drill/activity if scholars do not understand, then he proceeds to demonstrate it to scholars. He mostly uses hands-on teaching. He also encourages scholars to always stay active because it is great for our health physically/mentally. Mr. Silversmith also coaches the high school and junior high Cross Country team. Pictured is WHS receiving 4th place at the Pinnacle Meet hosted on September 13. By: Keeyah Begay
Tim Harrison is the Music Teacher. He likes to teach all the instruments, but enjoys teaching the brass instruments more because his primary instrument is a brass instrument. WHS is the first school for his teaching career. In fact, his first year at WHS counted as his student teaching for his degree. He also speaks Korean as his second language. He accepted the job offer to teach at WHS because he was looking for a school to complete his student teaching and be considered a full time employee. He found WHS from a professor and turned in an application. He also loves the area and the school. Mr. Harrison got into music by starting as a music performance major, but later switched to Music Education when he saw the joy his professors had in helping students succeed with their music. So really, teaching music is the best way for him to enjoy both what he loves and helping others find how music can help them. The hobbies Mr Harrison enjoys are golfing, reading, baking/cooking, hiking, and composing music. His two favorite composers are Dimitri Shostakovich and Frank Ticheli. Throughout Harrison's childhood and going to college, he pursued architecture as his career. He is also into physics and engineering, but never considered those as career options. By: Nicolas Howell
Here is a little bit about Ramsey Seweingyawma that most people do not know. He changed his career and degree choices a couple times: from a psychology degree, to a more scientific degree, to engineering. This is where he felt more comfortable and went through some of the programs. He thought he would finish his degree for a Bachelor's in Engineering, but did not really feel like an engineer at the end. Moving on, he started helping younger people at Arizona State University. This made him inspired to be a teacher, mostly for loving math. One of his favorite things about teaching math is the progress of seeing a student hate math to later on when they realize that math was way more than just calculation and they started to really understand and enjoy math as they built their skill. By: Leyonah Endischee
Robin Henderson is in her 12th year as the Talent Search Advisor and Counseling Support. Before, she was a full-time mother of two daughters. Currently, one of her daughters is a sophomore in college and the other is a Senior in high school. Robin says she knew in her heart that she wanted to work with students that need help in our community. "A big part of being a Talent Search Advisor is communication -- listening to scholars and then responding thoughtfully and effectively. It is also friendliness -- having a warm and inviting demeanor." She wishes all young people to find something they are passionate about and work for it with the belief that they can achieve it. Her biggest challenge was reaching out to every scholar individually. She has fun opportunities to focus her energy on assisting scholars to pursue a post-secondary education, especially scholars who are an active part of their own success. "Getting to know the scholar and the life they live, actively listening to them, and asking for their feedback" is how she gains trust. Her goal is to continue to encourage and assist scholars to complete high school and pursue a post- secondary education. By: Heidi Thomas
Sharmita Benally is a paraeducator, well-known in the school for helping scholars with math. Sharmita is a very patient teacher and knows how to interact with scholars that are having an issue with a problem. She really knows how to explain what we are doing. She likes her position as paraeducator and says "I feel as if I can do more." Sharmita has been working for about four years. She says, "my summer job is working in construction because that is something I like to do and what I am good at." By: Shea Benally
---
Keep Drop-Off and Pick-Up Safe
1. Drive under 5 mph in the school parking lot.
2. Pull up to the curb directly in front of the flagpoles when dropping off scholars between 7:50-8:20 am. In this way, scholars will not be crossing in front of a moving bus.
3. The best location for scholars to get into a parent's vehicle after school is on the east side of the building, near the pine tree. This is the scholar parking area. After pick-up, please exit the parking lot through the east gate to avoid the bus lane.
NOTE: Any scholar who is driving to school, needs to have a WHS Parking Permit on their vehicle mirror. The Parking Permit is obtained through the office of Assistant Principal. There is a short application and scholars must provide vehicle registration, driver's license, and proof of insurance.
---
Senior Spotlight
The Class of 2022 had their Sophomore year cut short. Despite the challenges they faced during distance learning, they came back ready to learn and finish their last year of high school.
Nicolas Howell the first Senior in this month's spotlight. Nicolas is proud to have accomplished a year of virtual remote learning. He has learned his motivations and inspirations to move forward. Nicolas has a plan cooking up for him after he graduates high school. His ambition is to start working so he can study culinary arts. After culinary arts school, he wants to open up his own restaurant. Nicolas is feeling excitement and anticipation leading towards graduation. He is also sad to be closing a chapter of his life.
Amos Nocki Jr has a lot of things on his plate this year. Amos finds ways to keep himself occupied. He is on the football team, a member of the HOPE Squad, and on the Honor Roll list. He is diligent when it comes to his academics. He does his best to stay on top of his school work. Amos is not afraid to ask questions to further his knowledge. He plans on studying computer programming at Fort Lewis College. In addition to academics, he hopes to continue pursuing football as well.


"First of all, we did it and that's something to celebrate!" So far senior year has been treating Kyle Little well. Kyle explained when it comes to academics, he enjoys being productive because he knows his hard work will pay off. Kyle is an experienced leader and team player. Whenever there is a class project, he is willing to hear the ideas of his team. Kyle values respect between him and his peers. He plans to forward his education after high school. He has a promise with himself to take his education as far as he can. "Never give up, I believe in myself, and I am my own motivation." By: Kiley Scott
---
Football Season Ends in October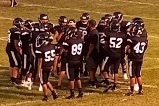 As I'm sitting here on the cool, steel bleachers, the sun starts setting behind the clouds. The clouds are looking like a small wave and seems to be perfect timing. When the stadium lights turned on, the Ignacio Bobcats were points ahead of the Raiders. Everyone loudly cheered for their team and cars horns were honking. By half time, the wind was roaring. At the end of the game, the coach and football players met on the field to get ready for the next game, which is in Dolores on October 1. We had an opportunity to run a short interview with the football coach, who responded, "When you have a real young team like we do, it is hard to really push them because the younger guys are trying to keep up with the older ones. It takes time, but what I like is they put a lot effort into it." One senior told me, "My brothers in the family joined football and I have taken advantage of playing football like my brothers. It's a family tradition to play football." Photo and story by: Davial Filfred
Coach Andrae Beard, the new head football coach, is originally from a small town called Cameron, Arizona. He attended Grey Hills Academy in Tuba City. Beard held the position of Assistant Coach for Whitehorse in 2019 when he assisted Coach Elliot Benn. Andrae says that he has a pretty young team, meaning there are more underclassmen involved this year, so it's a learning process. He says football is not all about one player, but rather about building leadership and learning how to be a team. He also stated that trying is the best way to become an excellent football player. "The ones who try, can make themselves become an excellent player out on the field." Coach says the part that gets him most excited is getting to watch the young ones learn how to play the game properly. By: Kolela Benally
Photo by Quanna Etcitty
---
Trustlands Letter for Parents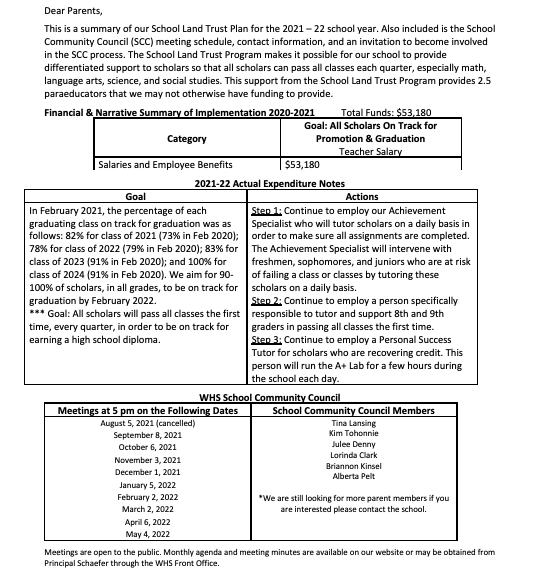 ---
· October 4: Evaluate Assessment for Language Arts (grades 7-10) and Math (grades 7-8)
· October 6: School Community Council Meeting via google meets (link on website & Facebook)
· October 15: Last day of 1st Quarter
· October 18: No School (Fall Break)
· October 19: First day of 2nd Quarter
· October 25: ACT Test at WHS (for Seniors who registered to re-take the ACT)

---